By Chris Balzer, ECES
ECES (Emerald Coast Energy Solutions) has announced it has partnered with SunPro products out of Bradenton, which is a top manufacturer of motorized awnings and screens. I'm not a very excitable person, however; when it comes to increasing comfort, I get excited.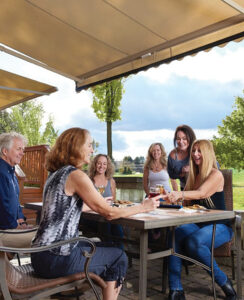 I personally have gone through several 10-foot hand crank umbrellas in my backyard. They are expensive, take up space and you can never find that perfect color. We have a solution. Our motorized awnings have hundreds of colors to match any design and several custom lengths to fit any lifestyle. We also include built in dimmable LED lights to enhance the outdoor nightlife, integrated cassette housing, I call it the garage, which protects the awning fabric from weather damage, extending the life of the fabric and looks sleek when retracted. Each awning comes with a wireless remote and built-in wind sensors. Wind sensors are a necessity; once triggered, the wind sensor retracts the awning automatically, ensuring the awning and your home stay protected. With a touch of a button, you will enjoy your outdoor space day or night. There are also many add-on options available, but most just enjoy the features which are included in our packages.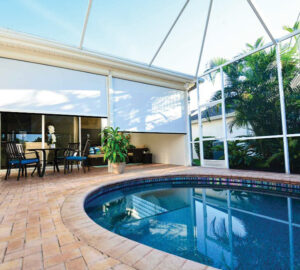 Another option to create an outdoor escape are motorized screens. With a custom motorized screen you can increase your comfort and style, indoor and out. Lifestyle options include insect protection, weather protection that creates an attractive defense to the elements without hindering your view, privacy protection, which maintains superior ventilation, outward visibility and the ability to retract the screens with the touch of a button. If your home is located on a golf course or close to your neighbor and you want to enjoy relaxing in your pool or backyard without the world watching, just a click of a button, instant privacy. Or if you wanted to upgrade that garage space with a motorized screen which allows that breeze to come in and creates privacy, just a click of a button. Wouldn't that be incredible? So if you are looking to create or enhance your outdoor escape with a custom motorized awning or screen, give us a call and we can explore the options together.
Chris Balzer is Founder and President of Emerald Coast Energy Solutions which is a Smile Provider Company. We provide smiles to our customers after installing our high energy efficient products, increasing comfort and lowering energy bills. For more information on how to save and become energy efficient, schedule an appointment by calling (850) 588-2870, visit www.trusteces.com or email wecare@trusteces.com and Beat the Heat.