Emerald Coast Theatre Company (ECTC) is proud to present The Odd Couple January 20-29, 2022 starring Producing Artist Director of ECTC Nathanael Fisher alongside Guest Director and comedian Jason Heddan, who also performed in Popcorn Falls together in 2021. When Oscar the slob and fastidious Felix decide to room together, hilarity ensues as the two mismatched roommates have a showdown of epic proportions. A classic that never goes out of style, The Odd Couple is a non-stop comedy you don't want to miss! Clash of the Titans has nothing on Oscar and Felix! Written by Neil Simon and directed by Scott Hayes, Dean for the School of Communication & the Arts and a professor of Theatre Arts at Liberty University.
Cast List
Oscar Madison – Nathanael Fisher
Felix Ungar – Jason Hedden
Gwendolyn Pigeon – Leigh Gladden
Cecily Pigeon – Elise Gandara
Speed – Bruce Collier
Murray – Allen Tuttle
Roy – Silas Waugh
Vinne – Heath Carroll
Director: Scott Hayes
Managing Director: Trenton Bainbridge
Set & Lighting Designer: Rebeca Lake
Stage Manager: Phillip Padgett
Technical Director: Drake Miller
Costume Design: Tara Padgett
Properties: Anna Fisher
The Odd Couple will be staged in ECTC's main space located on the second floor of 560 Grand Boulevard in Grand Boulevard Town Center in Miramar Beach. Tickets range from $28 – $36 depending on the show. There is an additional processing fee for ticket purchases. Purchase tickets online at www.emeraldcoasttheatre.org.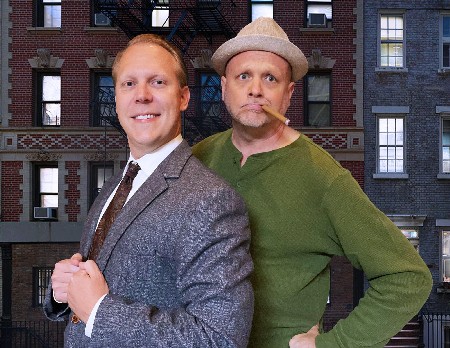 Save the date for ECTC's upcoming performances: The Last Five Years (Feb 10 – 19) and Steel Magnolias (Feb 24 – March 5)
A special thanks to ECTC's Major Sponsors of the 2022-2023 season: Grand Blvd at Sandestin, St. Joe Community Foundation, Howard Group and the South Walton Tourist Development Council (Visit South Walton).
Storyteller Series Wednesday, January 25th 
The Theatre Company presents The Storyteller Series, January 8 – March 7, 2023. Enjoy four powerful performances featuring professional actors and authors presenting compelling stories and dramatic works. The Storyteller Series productions will be staged at ECTC's space located upstairs at 560 Grand Boulevard in Grand Boulevard Town Center, located in Miramar Beach. The Storyteller Series – Jan. 24th & 25th, 7:30PM || New Works: DISSONANCE by Marci Duncan, Artists at Play in collaboration with Theatre Evolution and Strategic Theatre Company present DISSONANCE, a poignant look at relationships and race set in Pensacola's Historic Belmont-DeVilliers community, affectionately known as "The Blocks." DISSONANCE is a new work written by Florida born Alabama based playwright/actress Marci J. Duncan in collaboration with Pensacola based playwright/actress, Kerry Sandell. Feb. 5th, 2:30PM || The Flight of Jackie Cochran by Nancy Hasty – March 7th, 7:30PM || Winston Churchill: Through the Storm by Bruce Collier.
To volunteer or learn more about Emerald Coast Theatre Company or to purchase tickets, call (850) 684-0323 and visit www.emeraldcoasttheatre.org. Engage with ECTC as well on Facebook, Instagram, Twitter and YouTube.