As the familiar sounds of rock and roll from decades past begin to seep from the speakers and the lights slowly rise to bring to life four rock gods that command the stage with a prowess uncommon in today's music industry that leaves the crowd begging for more.
Hailing from Louisville, Ky., the world-famous Velcro Pygmies travel the country from the Emerald Coast to the Great Lakes to share the sights, sounds and stain-washed denim and big hair that's synonymous with the '80s while schooling audiences of all ages on the difference between a rock band and rock show. Simply put, the Velcro Pygmies treat audiences to a genuine, undiluted rock and roll energy that unites every race, creed, age and gender.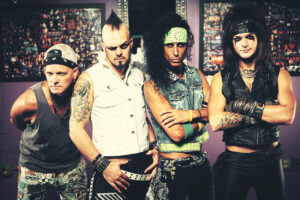 Having grown weary of seeing nearly identical bands just staring at their shoes and boring audiences, the Pygmies – comprised of Cam Flener (Vocals), Chris Eddins (Drums), Chase West (Guitar), and Max War (Bass) – decided to bring back the performance elements of rock music that have since been forgotten. From an energetic frontman, pounding drums and loud guitars, to audience participation complete with glitter and blow pops, the Velcro Pygmies deliver a one-of-a-kind show that could be considered the old Van Halen for a new generation.
As the lead vocalist, Flener is the face of the Pygmies who's adored and revered for his on-stage presence. His personality captures and captivates while his ability to take audiences back to their youth keeps bringing them back time after time for a dip in his rock and roll fountain of youth. Eddins also keeps fans enthralled with his unique ever entertaining wit, style, and antics, and wields the drumsticks like a samurai wields a sword. He cuts through the heart and soul of a song with gifted precision and emotion that can be felt throughout the house. West is known as a guitar god, but he's also known to melt hearts with his charming smile and hunger for a cool buzz, fine women, and tasty licks. He will definitely have you screaming your heart out all night long. And finally, War brings a unique look and feel to the Pygmies, rounding out the foursome.
In addition to the high-energy rock show that only the Pygmies could deliver, they also bring a sense of patriotism that's rarely found in today's rock arena. For nearly a decade, the Pygmies have honored military veterans at each show by displaying flags from those wounded in Afghanistan.
Many may say that the Velcro Pygmies are more than just a band, they are a way of life. With well over a thousand shows under their belt and an army of adoring fans, the Pygmies have set the stage to be one of the most sought-after rock and roll cover bands in the country. Their combination of four-part harmonies, catchy songs, and musical skill and talent is something that can't be missed.
The Velcro Pygmies take the stage at Seaside School's Taste of the Race on Friday, Feb. 17, 2023, on the Seaside Lyceum to kick off the Seaside School Half Marathon & 5K Race Weekend. This year's race is themed "Rockstar Run," and the Pygmies' performance is sure to get everyone in the spirit. For more information and to purchase tickets, visit runseasidefl.com.